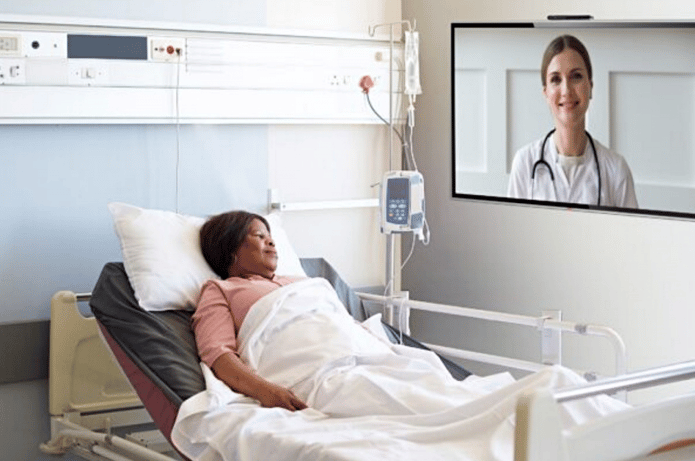 Read original post: https://www.econotimes.com/LG-announces-joint-virtual-care-solution-with-Amwell-to-address-staff-shortage-in-hospitals-in-US-1645355
LG and Amwell Healthcare telemedicine company based in Boston, Massachusetts, have joined forces to develop products and services that will be beneficial in the healthcare business sector. Now, they have announced the launching of their first Virtual Care Solution for hospitals.
LG said that they hope this technology will help with solving the staff shortages in hospitals. It was in March when the South Korean healthcare arm of LG Electronics signed a strategic deal with Amwell as part of its vision of producing socially impactful products and services.
The virtual care solution is called the Carepoint TV Kit 200L, and it was designed to go beyond the bounds of digital health innovation. The kit is powered by the Amwell Converge platform that utilizes the existing LG healthcare television sets in the rooms of patients. The TV will allow healthcare staff to remotely monitor, communicate, and even discharge patients.
As per Hospital Management News, this setup will definitely help with the reduction of the healthcare professionals' workload in hospitals. The kit is also beneficial as it will extend the reach of care teams via isolation room monitoring, virtual rounding, and nursing. Moreover, the solution makes it possible for all the activities - from admission to discharge - to be carried out from one location.
"We are spearheading a digital transformation of the healthcare system in hospitals by providing an innovative platform that makes care more virtual, accessible and efficient while helping to improve quality of care," LG Electronics' general manager of digital health, Atul Singh, said in a press release. "Our new TV Kit solution helps alleviate the challenges that hospitals struggle with day-to-day, such as better managing labor shortages and offering clinicians and care teams greater flexibility and easier access to patients."
Amwell Healthcare's chief marketing officer, Susan Worthy, further added, "We are facing an all-time high level of healthcare worker burnout and financial constraint spurred by the pandemic and technology innovation such as this can reduce the burden on clinicians and care teams while improving patient engagement and ultimately enabling a better care experience for all."